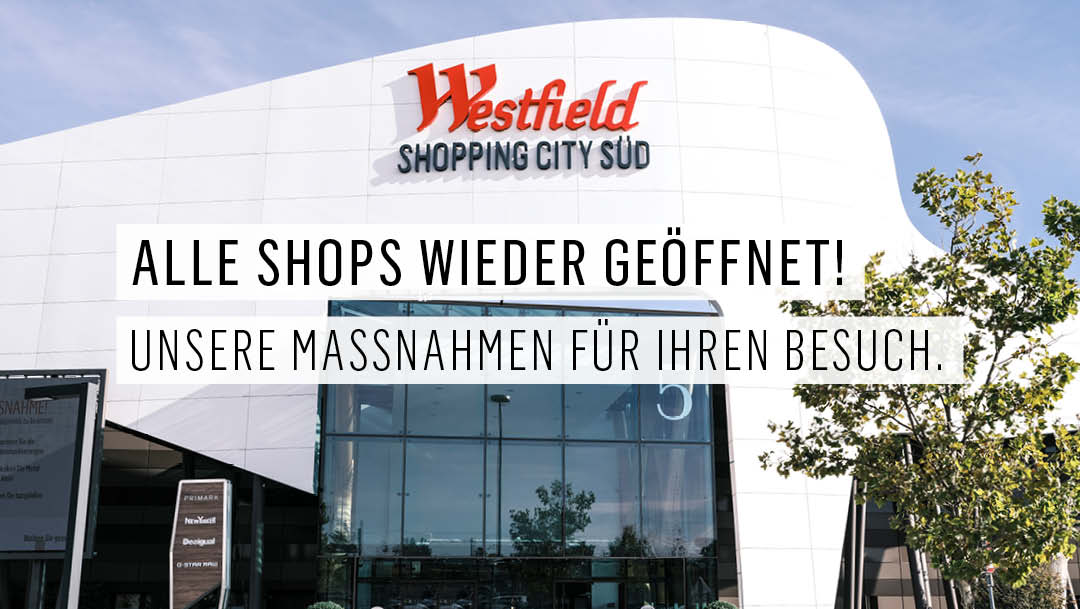 Corona safety measures
Dear visitors!
What counts now is the health and safety of us all.
In accordance with the new Corona Regulation (Level 4) which came into force on 8 November 2021, the following access regulations for visitors to Westfield Shopping City South apply with immediate effect to combat the Corona pandemic:
FFP2 masks are compulsory in the entire centre & in all shops
Catering establishments, body-related services & Co.
When entering premises to use the services of a catering establishment (gastronomy) or body-related service provider (e.g. hairdresser), the following requirements apply, among others:
2-G rule: Access only for recovered or vaccinated persons. Control of the 2-G rule by the respective caterer or service provider. The 2-G rule also applies to night catering guests. However, they do not have to wear an FFP2 mask.
The operator of a catering establishment is responsible for collecting the contact data (allocation by date and time possible) of the customers (first and last name, telephone number and, if available, e-mail).
For children and young people between the ages of 13 and 15 (compulsory school age) the following applies: The Ninja Pass is treated as equivalent to the 2-G pass and is therefore also valid as proof of admission to the restaurant, cinema.
Please note that the above list is only an excerpt and we do not guarantee completeness. You can find all the current information here:
Basic cleaning of the entire center and increased cleaning intervals.
The entire interior of Westfield Shopping City South is regularly subjected to a basic cleaning and brought up to standard by our cleaning staff. Many thanks at this point to our cleaning team!
In addition, the cleaning intervals have been increased. The sidewalks and traffic areas are continuously cleaned by machine, the toilet facilities and balustrades by the trained cleaning staff. Sufficient disinfectant dispensers are provided for you at all entrances, toilet facilities and receptions.
If you have any questions about the above measures or the official requirements, the Westfield Shopping City Süd Center Management Team is available to you at any time:
By phone: +43 1 699 39 69 0
E-mail:

scs.centermanagement@urw.com

Outside office hours, please contact the Westfield Shopping City Süd reception at +43 1 699 59 02.
You can also find all info in the Westfield Shopping City Süd App as well as on our social media channels |
Facebook
&
Instagram
.
With this in mind: stay healthy, keep your distance and take care of yourself and your fellow human beings.